Welcome to Our Home Away from Home at the Beach!!!
DIRECT OCEANFRONT SPACIOUS 2 BEDROOM/2 BATH 2ND, 3RD, & 5TH FLOOR CONDO UNITS. Watch the sunrise and the surf come in from the LARGE PRIVATE OCEANFRONT BALCONIES in these very comfortable and spacious condo units. As soon as you walk in you will feel relaxed. All our condo units are DIRECT OCEANFRONT offering a beautiful view of the beach from the living room and master bedroom. You can watch Dolphins play in the water, pelicans fly by, or just enjoy the beautiful waves. The beach is just footsteps away from the condo which is located directly on the NO DRIVE ZONE portion of Daytona beach.

The Sea Fern condominium is located on a small peninsula of land between the Atlantic Ocean and the Halifax River at 3807 South Atlantic ave., Daytona Beach shores.

These are not your typical small 2 bedroom condo units you'll find elsewhere in Daytona Beach. These SPACIOUS condo units (over 1400 Sq-ft) have 2 full baths, a living room, a separate dining area, a full kitchen, a full size washer and dryer, and ceiling fans with light kits in the bedrooms and living room. The large master suites have either a Queen size (2nd & 3rd floor) or King size (5th floor) bed, private full baths with walk-in shower, and floor to ceiling sliding glass doors that open to the oceanfront balcony, for an amazing oceanfront view. The second bedrooms contain two twin beds with their own full size bathroom with shower/bathtub in the hall.

All our units have QUEEN SLEEPER SOFA-BEDs allowing the units to comfortably accommodate up to 6 people.

Our condo units are DOG FRIENDLY!! We are happy to allow our guest's canine companions to stay with them on their vacation. Up to two, well behaved, non-aggressive, housebroken dogs (12 months of age or older, no puppies) are allowed. We do not permit cats (due to family allergies) or any other pets.

All utilities are included during your stay.

We provide an ELECTRIC GRILL for your grilling pleasure on our large, private, oceanfront balcony.

We have a ROKU HDTV in the living room providing you almost unlimited streaming content at your fingertips in addition to traditional digital cable service. We provide free access to NETFLIX as well as several other streaming channels giving you access to hours of ON DEMAND entertainment when your not out enjoying the beach.

Digital cable is provided in the living room and bedrooms with a DVD player in the living room.

FREE LOCAL AND LONG DISTANCE CALLS within the United States, Canada, and Puerto Rico is provided for your benefit.

There is even FREE HIGH-SPEED WIRELESS INTERNET (WiFi), so bring your laptop computer.

Our condo units include ALL THE COMFORTS OF HOME, as they are FULLY EQUIPPED with EVERYTHING you need from silverware, to linens, to beach chairs and towels. We even provide you your initial soap, paper towels, toilet paper, detergent, and dryer sheets so that you can start relaxing as soon as you walk in the door.

The master Suite and living room have floor to ceiling sliding glass doors that open to the LARGE PRIVATE OCEANFRONT BALCONY, for an amazing oceanfront view.

A RESERVED COVERED PARKING SPACE is provided. There is additional parking in front of the building for your guests. The 2nd floor unit is level with the parking in front of the building and only a quick walk or elevator ride down one floor to the beach. There is an elevator to the 3rd & 5th floor units to quickly sweep you to and from the unit.

The 2nd floor unit has a beautiful direct oceanfront view overlooking the beach-side pool below. The 3rd floor unit has a beautiful direct oceanfront view as well as a beautiful view of the beach to the south towards the Ponce Inlet Lighthouse. The 5th floor unit has a beautiful direct oceanfront view as well as a beautiful view of the beach to the North towards the Sun Glow Pier.

There is an OCEANFRONT POOL with adjacent sunning deck.

The building has only 19 units guaranteeing a more comfortable and relaxing stay on your vacation than the other more crowded hotels and condos in Daytona Beach.

There is plenty to do, including golf cart, ATV, and bike rentals on the beach, as well as surfboard rentals. There are also jet ski rentals and parasailing at Ponce Inlet, just a short drive South. You can stroll to the local pier for breakfast, lunch, dinner, or fishing. There are also numerous restaurants in the immediate area, some with fresh seafood and live music. There are various miniature golf sites nearby, as well as a water park, go-carts, amusement center at the boardwalk, shopping, parasailing, etc.

Your home away from home is 60 minutes from Disney World, Sea World, Universal Studios, and Kennedy Space Center. Daytona Beach Airport and Daytona Speedway are 20 minutes away. You will positively want to return year after year.


We rent monthly and weekly (Saturday to Saturday)
Check-in: 5:00pm - Check-out: 10:00am
Thanks for Visiting Our Website!!!
Our Condo Units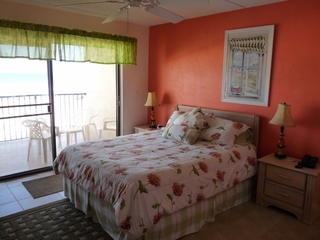 2nd Floor Unit
Daytona Beach Shores , FLORIDA
See reviews
2 bedrooms
2 bathrooms
6 max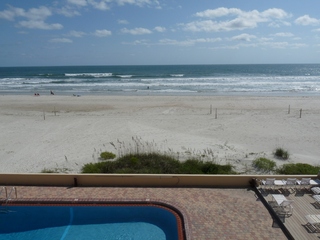 3rd Floor Unit
Daytona Beach Shores , FLORIDA
See reviews
2 bedrooms
2 bathrooms
6 max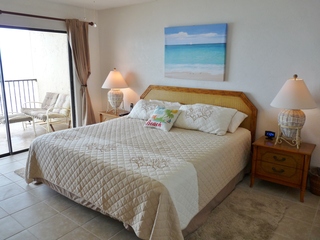 5th Floor Unit
Daytona Beach Shores , FLORIDA
See reviews
2 bedrooms
2 bathrooms
6 max


Unit Photos

---
2nd Floor Condo Unit
View from Large Private Oceanfront Balcony of 2nd Floor Unit
| | | |
| --- | --- | --- |
| | | |
| View to the North from Large Private Oceanfront Balcony of 2nd Floor Unit | | View to the South from Large Private Oceanfront Balcony of 2nd Floor Unit |
---
3rd Floor Condo Unit
Condo Beach
| | | |
| --- | --- | --- |
| | | |
| 3rd Floor Large Private Oceanfront Balcony View North towards the Sun Glow Pier | | 3rd Floor Large Private Oceanfront Balcony View South towards the Ponce Inlet Lighthouse |
---
5th Floor Condo Unit
| | | |
| --- | --- | --- |
| | | |
| 5th Floor Large Private Oceanfront Balcony View North towards the Sun Glow Pier | | 5th Floor Large Private Oceanfront Balcony View South towards the Ponce Inlet Lighthouse |
View from Large Private Oceanfront Balcony of 5th Floor Unit
| | | |
| --- | --- | --- |
| | | |
| 5th Floor Large Private Oceanfront Balcony View North towards the Sun Glow Pier | | 5th Floor Large Private Oceanfront Balcony View South towards the Ponce Inlet Lighthouse |
---